Detroit Institute of Arts
Interactive Japanese Tea Ceremony Experience
The Detroit Institute of Arts (DIA) has opened its newly installed gallery of Japanese art.

Traditional masterpieces will be displayed alongside contemporary objects to explore the complementary qualities of stillness and movement inherent in many Japanese artworks. Visitors are invited to imagine the objects in their original contexts and spaces, such as tea rooms, Buddhist temples and domestic rooms. 


A thought-provoking pairing of objects greets visitors as they enter the gallery: a 17th-century samurai helmet with a clamshell decoration affixed on top; and Creature, a recent ceramic sculpture by contemporary artist Tomoko Konno. While visually very different, each piece illustrates the concepts of stillness and movement through their exploration of water-related imagery and symbolism.


Digital components in the gallery help bring the objects to life and provide additional context. The section exploring tea includes various tea wares, such as cups and pots, and also features an interactive tea table, created in collaboration with the digital design firm Tellart. Visitors can sit around a touchscreen table, where a digital tea host guides them through an experience that includes handling a 3-D printed tea bowl. 
We started the journey by diving head first into research. Our team participated in a culturally specific, proper Japanese Tea Ceremony in New York City. This was an enlightening, and positive start to the project. 
We began early prototyping using found objects, markers and clever ingenuity to understand the UX process framework, and ensure we are capturing the holistic, careful process that is the culturally rich Japanese Tea Ceremony.
After learning the basics using whiteboard prototyping, we quickly up-res'd our prototype to be projection driven, so we could quickly iterate on the UX / UI digitally. 
In parallel with the quick prototyping and development of the screen UX, I developed the tea bowl (Chawan) physical design and quickly iterated on it's form. With so much cultural sensitivity involved, we consulted with a Japanese cultural consultant with over 15 years performing Japanese Tea Ceremonies, and experience working with master Chawan sculptors. 

Wabi-sabi was a key constraint. 
We moved on to user testing on-site at Detroit Institute of Arts, with staff, stakeholders, community members, and cultural experts. 
This stage was critical to ensure not only the museum was thrilled with the Tea Ceremony experience, but also to be sure the digital sharing and interaction cues were clear to all cultures and backgrounds.
After learning a ton from user testing at the museum, our team rapidly developed the UX / UI of the screen-based experience, while I continued to develop the physical tea bowl (Chawan) in parallel.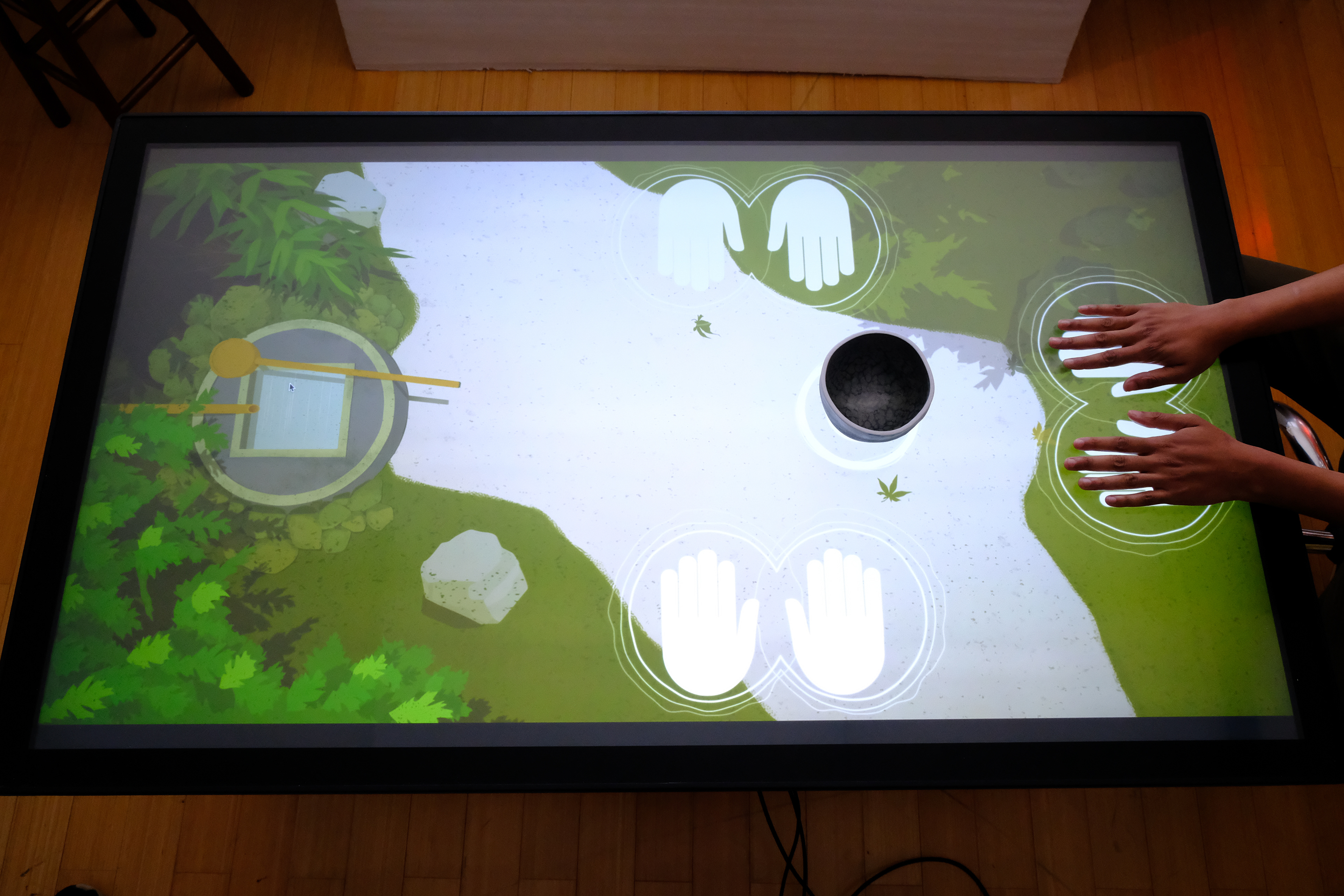 I rapidly worked in-house and with contractors to develop all of the physical elements of the experience. Including the physical table design which held a 55" Ideum touch screen display, the fabrication of component brackets to hold computers & ventilation fans, as well as the final design and production of the Chawan tea bowl(s).
I developed the tea bowl to be reproduced cost effectively, using colored sandstone 3D printing, with a special resin "glaze", to protect from damage and wear, but also to simulate an actual ceramic glaze.

The final product's weight, texture, appearance are all carefully considered to be perfectly in-line with traditional Chawan standards, down to the gram weight. While these Chawan's are not technically ceramic, it's very hard to distinguish otherwise. They were produced using Blender, texture mapped in Photoshop & printed on Stratasys ProJet sandstone ink printers. The animation below was generated in Keyshot.

We produced over 20 Chawan's for the museum to use over the lifespan of the exhibit. 
The tea bowl went through over 10 iterations of it's form, and countless iterations of the texture UV map printed into the sandstone. 
The tea bowl has a special conductive rubber base in it's foot, which allows the Ideum touch table to recognize it's location and proximity throughout the experience.

The Chawan is core to the interaction's story, and encourages gentle sharing and communication between strangers. 
You can experience the Japanese Tea Ceremony anytime, at Detroit Institute of Arts in Detroit, Michigan.